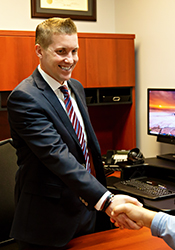 Greg joined Compass Financial Group in January 2013 and specializes in helping clients to identify, plan for​,​ and achieve what's most important to them: peace of mind to pursue their meaningful life.
Greg began his career in 2007, after earning his degree in Financial Planning from The Ohio State University. He is a CERTIFIED FINANCIAL PLANNER, a Chartered Advisor in Philanthropy, a Retirement Income Certified Professional, and a member of the Financial Planning Association.
Greg lives in Upper Arlington with his wife ​Rachael and their daughter, ​and he is a passionate Buckeyes fan. He is an active member of various community groups and volunteer programs, and enjoys soccer, golf, and spending time with friends and family.