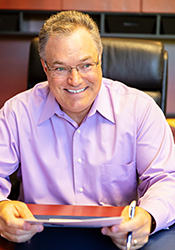 Mark has been in the wealth advisory business for more than ​23 ​years, serving the needs of executives, small business owners, and families. A graduate of The Ohio State University, Mark has carefully and successfully developed his business philosophy of approaching wealth management from a unique, holistic perspective.
As President of Compass Financial Group, Mark is a Registered Investment Advisor and has been featured on the cover of ​Money magazine. He is registered in several states in the area of securities, along with life and health insurance, and is a prominent speaker on financial and charitable planning.​
Throughout his career, Mark has conducted numerous seminars on financial planning and wealth management for private corporations, non-profit organizations, and industry conferences.
In addition to his passion for ​helping people do things in their lives that are important to them​, Mark is active in community improvement through several charitable organizations including ​Community Development for All People, Family Promise of Delaware County, and Powell United Methodist Church​.
Mark and his wife Lori have 3 grown children, and have made Powell their community for over 20 years. When he's not helping his clients build their success, Mark enjoys spending time with his family, golfing, fly fishing, traveling, and playing pickleball.